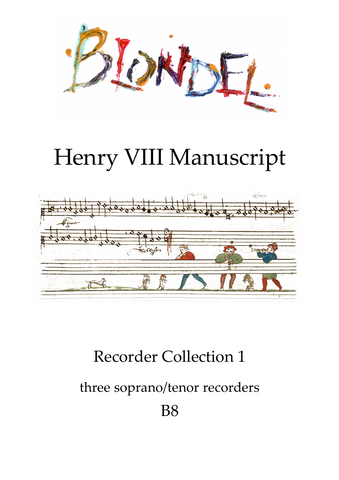 B8 Henry VIII Manuscript: Recorder Collection 1: Canons and Rounds for 3 soprano or tenor recorders
Contents
Downbery down: William Daggere
In May that lusty seson: Thomas Farthing c.1475-1520
Deme ye best: John Lloyd
Pray we to God: Anonymous
Hey nowe, nowe: John Kempe
It is to me a ryght gret joy: Henry VIII (1491-1547)
Aboffe all Thynge: Thomas Farthing c.1475-1520
Hey now now: Thomas Farthing c.1475-1520
Hey troly loly: Anonymous
Now: Anonymous
Ah Robyn gentyl Robyn: William Cornysh (1465-1523)
I leffe alone: Doctor Cooper
Untitled: Anonymous
The Henry VIII Manuscript (BL Additional MS 31922) dates from around 1518 and is the most modern of three large songbooks surviving from the period. It contains more music ascribed to Henry VIII than to any other composer and clearly belonged to somebody closely associated with his court—probably Sir Henry Guildford, Controller of the Household and Master of the Revels.
Henry VIII was highly regarded as a composer and performer during his lifetime, possibly because nobody was willing to tell the King he wasn't very good. A number of pieces in this volume are genuinely his work—they tend to stand out as a result of their slightly clumsy style. He also made arrangements of works of other composers, and laid claim to several pieces that are clearly not his work at all.
The collection also includes a number works by foreign composers such a Heinrich Isaac and Hayne van Ghizeghem, and 76 pieces by musicians associated with Henry's court, such as William Cornysh and Robert Fayrfax.
Nothing is known about William Daggere. Thomas Farthing was a chorister and later a clerk at King's College, Cambridge, before becoming attached to the household of Margaret Beaufort (Henry VIII's grandmother.)
Aboffe all Thynge was written in celebration of the birth of Henry's first son in 1511. Sadly the child died two weeks later. John Lloyd was a priest in the Chapel Royal by 1505 and, later, a gentleman of the Chapel. John Kempe was a lay singer at Westminster Abbey. Doctor Cooper was a clerk at King's College, Cambridge who was later ordained.

William Cornysh was a composer, poet, dramatist, organiser of revels and performer. He became a member of the Henry VII's Chapel Royal in 1494, and Master of the Children of the Chapel Royal by 1509. He organised the pageants devised for the marriage of Prince Arthur and Catherine of Aragon, as well as those held at the Field of the Cloth of Gold in 1520.