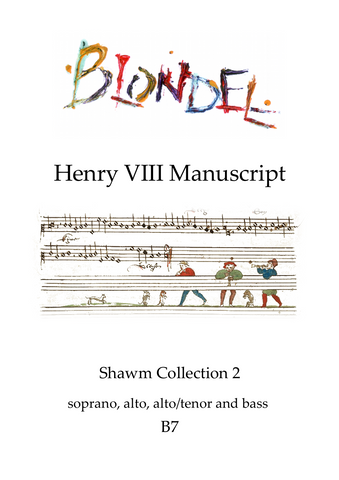 B7 Henry VIII Manuscript: Shawm Collection 2 S A A/T B shawms (also suitable for recorders)
Contents
Hélas madame: Henry VIII (1491-1547)
Gentil prince de renom: Henry VIII (1491-1547)
En vray amoure: Henry VIII (1491-1547)
Let not us that young men be: Anonymous
Whoso that will himself apply: Henry Rysby
How to use this book
I've tried to make this book as flexible as possible. The first third contains editions of each piece for shawms in D, G and C at sounding pitch, the second third for shawms in C, F and C at sounding pitch, and the final third for players of shawms in D and G who prefer to read in F and C fingerings.
The Henry VIII Manuscript (BL Additional MS 31922) dates from around 1518 and is the most modern of three large songbooks surviving from the period. It contains more
music ascribed to Henry VIII than to any other composer and clearly belonged to somebody closely associated with his court—probably Sir Henry Guildford, Controller of the Household and Master of the Revels.
Henry VIII was highly regarded as a composer and performer during his lifetime,
possibly because nobody was willing to tell the King he wasn't very good. A number of pieces in this volume are genuinely his work—they tend to stand out as a result of their slightly clumsy style. He also made arrangements of works of other composers, and laid claim to several pieces that are clearly not his work at all.
The collection also includes a number works by foreign composers such a Heinrich Isaac and Hayne van Ghizeghem, and 76 pieces by musicians associated with Henry's court, such as William Cornysh and Robert Fayrfax.
Hélas madame is an anonymous 3-part chansn to which Henry VIII added the third line; Gentil prince de renom is another 3-part work to which Henry VIII added the third line (it first appeared in the Odhecaton in 1501) and En vray amoure is another piece to which Henry VIII added an extra voice—in this case line two.
Nothing is known about Henry Rysby except that he was a clerk at Eton in c. 1506-1508.