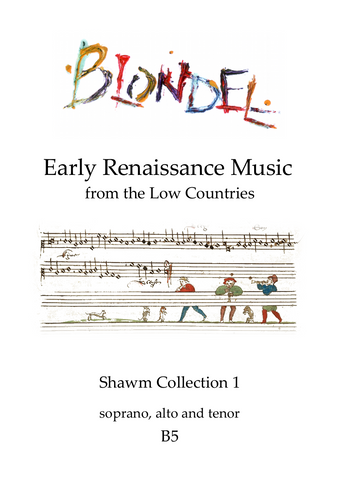 B5 Early renaissance music from the Low Countries: shawm collection 1 SAT shawms (also suitable for recorders)
Contents
Een vroylic wesen: Jacques Barbireau (1455–1491)
Tenez moy en voz bras: Anonymous Chansonnier Pixérécourt
Du bon du cueur: Anonymous British Library MS Add. 35087
Mijn alder liefste moeshckin: Alexander Agricola (1445 or 1446 – 1506)
Je ne puis plus: Alexander Agricola (1445 or 1446 – 1506)
How to use this book
I've tried to make this book as flexible as possible. The first half contains editions of each piece for shawms in D or C, G or F, and C at sounding pitch, the second half for players of shawms in D and G who prefer to read in F and C fingerings.
Jacques Barbireau (1455–1491) was a Franco-Flemish composer from Antwerp. His
peers considered him one of the great geniuses of his time, but sadly he died young and most of his work was destroyed by religious fanatics in 1556 when the cathedral library in Antwerp was attacked.
Most of Barbireau's surviving works were preserved in foreign collections. The rondeau Een vroylic wesen became an instant hit across over Europe. It appears in various formats in Spain, Italy and England; Heinrich Isaac even based a mass upon it.
Alexander Agricola (born Alexander Ackerman;1445 or 1446 – 1506) was a leading
light of the Grande Chapelle. He was a versatile composer and highly regarded during his lifetime and music found its way across Europe in numerous transcriptions.
He was born in Ghent, but travelled widely during his career—but apparently absconded from a good number of his appointments. In Milan he was employed by the Duke Sforza, who recommended him to Lorenzo de Medici in Florence. In 1476 he was in Cambrai. He worked in the French royal chapel, and for Philip the Handsome, Duke of Burgundy and the King of Castile. He died of plague at the height of his fame in Valladolid in 1506.
Agricola's music is complex; he delights in layers of sequences while his melodies weave
around short accompanying rhythmic motives. Stylistically he borrowed from the
Burgundian school, but also adopted elements of the newer Franco-Flemish school
influenced by the works of his famous contemporary, Josquin des Prez.