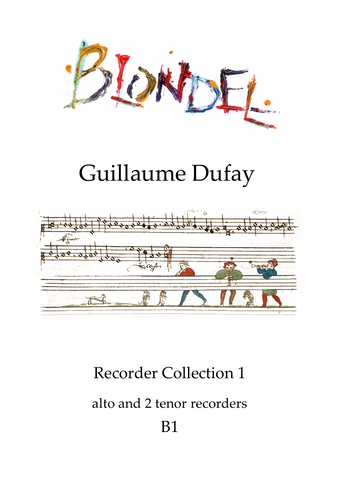 B1 Dufay Recorder Collection 1 for alto and 2 tenor recorders
Contents
Quel fronte signorille
Bon jour, bon mois
Puisque celle qui me tient en prison
Adyeu, quitte le demeurant
Guillaume Dufay (? 1397–1474) was a pivotal figure in the history of music
whose works straddled the fading years of the medieval period and heralded the arrival of the renaissance. One of the last composers to make use of isorhythm, and the first to explore the new harmonies, phrasing and forms that marked the music of the fifteenth century, he was one of the most influential figures of his time.
His music was endlessly copied and distributed throughout Europe. His fame was
unrivalled and some element of his style rubbed off on just about every composer who followed him during the 15th century.
The present collection includes the New Year's chanson, Bon jour, bon mois, the Italian strophic love song Quel fronte signorille, and also several French love songs: the serenely beautiful textless Puisque celle qui me tient en prison and another textless chanson, Adyeu, quitte le demeurant.